Mark Schlabach
ATLANTA -- Georgia Tech's summer break couldn't have come at a better time for its baseball team.
The No. 6 Yellow Jackets (39-9, 17-7 ACC), who trail No. 3 Virginia and No. 12 Miami by one game in the ACC Coastal Division standings, lost three of four ACC series from April 9 to May 2. They dropped two of three games at Virginia, two of three at home to No. 18 Virginia Tech and two of three at NC State. In between, Tech swept three games at home against No. 22 Clemson.
[+] Enlarge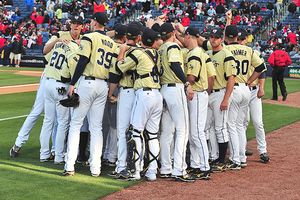 Courtesy of Georgia Tech Athletics Georgia Tech harbors hopes of hosting an NCAA tournament regional. The Yellow Jackets close the regular season with series against Miami and BC.
"I think as long as I've been doing this, every team goes through a period where they're not clicking on all cylinders," Georgia Tech coach Danny Hall said. "I think we weren't as sharp, but I think we also ran into some good pitchers, too. I think we showed signs of playing better last weekend. The kids are out of school now, so I'm looking for my guys to get fresh mentally and physically."
A strong showing against the Hurricanes this weekend during a three-game series at Russ Chandler Stadium in Atlanta probably would go a long way toward securing the Yellow Jackets a chance to host an NCAA tournament regional next month. They hosted a regional in Atlanta last season but were eliminated after losing to Southern Miss twice.
"In the regional last year, we didn't pitch well enough and didn't play good-enough defense to win," Hall said. "That was the bottom line."
The Yellow Jackets might be better-armed to make a sustained run in the NCAA tournament this season. Georgia Tech last played in the College World Series at Rosenblatt Stadium in Omaha, Neb., in 2006.
One of those arms, junior right-hander Deck McGuire, had his own share of struggles this season but is hopeful the Yellow Jackets have turned the corner as the postseason nears.
"I believe every year you're going to hit a little rough patch," McGuire said. "Last year, it came a little toward the end of the season. We're hoping we got it out of our system a little earlier this year."
The Yellow Jackets swept three games against Illinois-Chicago at home this past weekend.
As a senior at Deep Run High School in Richmond, Va., McGuire had a 10-1 record with a 1.35 ERA. He was named the state baseball player of the year and was a star quarterback. A 6-foot-6, right-handed pitcher, McGuire struck out 17 batters in a game and 129 during his last season in high school.
Remarkably, McGuire wasn't one of the 1,504 players whom Major League Baseball teams selected in the 2008 amateur baseball draft.
"I think there were concerns about his velocity," Hall said. "He threw the ball about 88 mph, and teams believed he was going to college with where he was going to be drafted."
After three seasons at Georgia Tech, McGuire probably won't have to wait long to hear his name called in next month's baseball draft. After improving his velocity to about 94 mph, McGuire is projected to be a top-10 selection by ESPN.com baseball analyst Keith Law.
Heading into this weekend's ACC showdown against Miami, McGuire has a 6-3 record with a 3.05 ERA. He has 90 strikeouts in 85 2/3 innings pitched.
McGuire throws four pitches well -- fastball, curve, slider and changeup. "I think the biggest thing is he's always been a guy with great command," Hall said. "I think he hit a little patch this season where he didn't throw the ball like he's capable of throwing it. I don't think his command left him totally, but he didn't have the command that I'm used to him having."
[+] Enlarge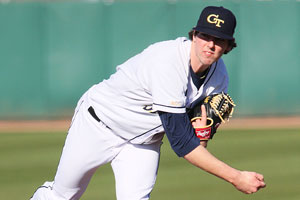 Courtesy of Georgia Tech Athletics Deck McGuire is 6-3 with a 3.05 ERA for Georgia Tech this season.
The Yellow Jackets have a team ERA of 3.70, which is 13th-best in the country. Although McGuire is the team's ace, Tech also has received stellar results from sophomores Mark Pope (7-0, 3.73 ERA) and Jed Bradley (8-2, 3.75) and junior Brandon Cumpton (7-2, 5.34).
Bradley has 82 strikeouts in 69 2/3 innings and serves as the team's regular Sunday starter. Pope has walked only seven batters in 60 1/3 innings as a midweek starter.
"They've been arguably our two best pitchers," catcher Cole Leonida said. "Obviously, in the ACC and NCAA tournaments, we're going to need four or five starters. The fact we have four or five starting pitchers can only help us."
The Yellow Jackets are capable of scoring plenty of runs, too. They rank No. 2 nationally in home runs (98) and slugging percentage (.587) and are fourth in runs scored (461).
Five Tech players have hit 10 or more homers this season. First baseman Tony Plagman, a former walk-on, is hitting .375 with 15 homers and 60 RBIs. Third baseman Matt Skole is hitting .354 with 15 homers and 52 RBIs, and designated hitter Thomas Nichols is hitting .384 with nine homers and 36 RBIs.
With a deep pitching staff and improved defense, the Yellow Jackets seem more than capable of getting back to Omaha.
"I'd love to see them go," Hall said. "Our seniors have played a lot, and they've certainly worked very hard to earn the right to get there. We've got some great juniors who have been great college players. You hope they get a chance to go."
Perhaps no Yellow Jackets player wants to get to Omaha more than Leonida, the only catcher on the roster. His father, Dennis, was an infielder on the 1974 Northern Colorado team that played in the College World Series.
"He told me it was the best two weeks of his life," Leonida said.
Leonida hopes it's time for the Yellow Jackets to make some memories of their own.
"It's been our goal since we stepped back on campus this fall," Leonida said. "Four years is too long for a school like Georgia Tech not to get to the World Series."